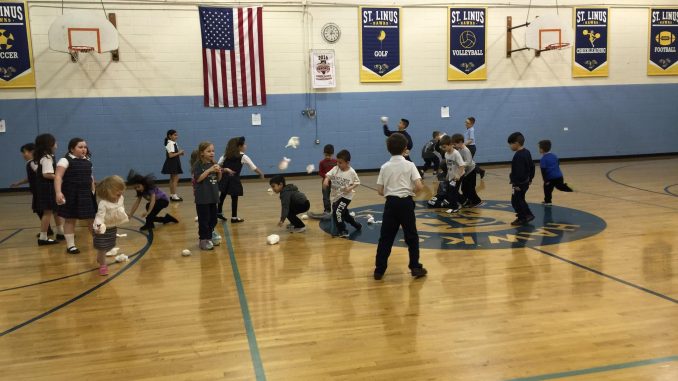 St. Linus School is happy to provide working parents with a safe and loving environment for their child both before and after our regular school hours.
Our Extended Day Care Program offers children:
The opportunity to finish their homework
Games
Outdoor play
Rest time for preschoolers
A committed and loving program coordinator.
Before and after school extended day care is available beginning at 6:30 am and continuing at the end of the school day until 5:30 pm on school days.
Extended Day Signup
Before School Program
The Before School Program begins at 6:30 A.M. Children will not be permitted to enter the room after 7:30 a.m. We are not responsible for children who arrive before 6:45 A.M. or for children not enrolled in the program.
After School Program
Our After School Program begins at 2:40 P.M. and ends at  5:30 P.M. Both our morning and evening programs serve WORKING families who desire both parochial school education and supplementary daycare in a Christian environment for
children enrolled in grade PK- 3 through 8.
How to Register
To register, click on the link below to download and fill out our Extended Day Program and enclose it in an envelope and return it to school addressed to Mrs. Gute, Extended Day Care Program along with your registration fee by June 1 for the upcoming school year. Parents who register for school after the June 1st deadline can print out this form and return it to school along with their child's school registration forms. If you have immediate questions you may call Mrs. Gute.