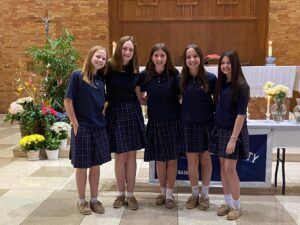 The National Junior Honor Society is a national organization that recognizes outstanding middle school students. NJHS goes beyond just having an honor roll to recognize achievements in our youth. It also teaches our middle school students that they need to demonstrate excellence in the areas of scholarship, service, leadership, character, and citizenship.  Our school has had an NJHS chapter for several years and this organization has become an important part of our school community.
Children are encouraged to join NJHS as candidates in 6th grade and upon completing all requirements, are inducted in a special ceremony each spring. Our NJHS chapter helps create academic excellence and kids who are willing to serve the greater community both within and outside our school.  NJHS also offers opportunities for leadership development.  Questions email Ms. Hurley at churley@stlinusschool.org
NJHS Annual Activities
Each year the NJHS students participate in a variety of activities. Which may include:
Helping students with schoolwork through after school tutoring on Tuesdays and Thursdays
Bi-annual participation in Feed My Starving Children
Miscellaneous service projects through parish events and organizations such as fundraisers and annual Chalktoberfest and Hawktoberfest events
Volunteering to altar serve masses
Volunteering to assist teachers at Sensational Summer Camp each summer
Members get to go to the Wolves Game as a reward each year
Volunteering at open house each January
Executive members have their own responsibilities too: answering the the secretary's phone while she eats lunch, making and selling popcorn on Fridays, and managing the School Store
Executive members also assist each year at our Veteran's Day Mass and Luncheon
Each May we hold our annual induction ceremony in the church to honor our NJHS members.
NJHS Expectations for Students
Students are allowed only one unexcused absence per year. An excused absence is allowed only for students who are sick from school or who have left school early for the day. If a candidate or members has something after school, (doctor/dentist appointment) they must notify Ms. Hurley BEFORE the meeting. A detention is NOT an excuse (NJHS members & candidates should NOT be getting detentions).